Oklahoma Winery Links
The number of Oklahoma wineries has been growing in leaps and bounds since state voters agreed overwhelmingly to open up this market in 2000. Use this list to choose which Oklahoma wineries you would like to visit.
Black Sheep Winery & Vineyards
30617 Pickle Lane
Poteau, OK 74953
Website: www.blacksheepvineyards.com


Canadian River Winery
Norman, OK
Website: www.CanadianRiverWinery.com


Chapel Creek Winery
5005 Darlington Rd.
El Reno, OK 73036
Website: http://www.chapelcreek.samsbiz.com/


Deer Creek Vineyard, LLC
1010 Silver Oaks Dr.
Edmond, OK 73003
Website: www.deercreekvineyard.com


Girls Gone Wine
Hochatown (Broken Bow), OK
Website: www.thegirlsgonewine.com


Girouard Vines, L.L.C
817 E. 3rd Street
Tulsa, Oklahoma 74120
Website: www.tulsawine.com


Greenfield Vineyard
Chandler, OK
http://www.greenfieldvineyard.com/


Indian Creek Village Winery
Rt 2 Box 174
Ringwood, OK 73768
Website: www.IndianCreekVillage.com


Native Spirits Winery
10500 East Lindsey Street
Norman, OK, US, 73026
Website: www.nativespiritswinery.com


Nuyaka Creek Winery
35230 South 177 West Avenue
Bristow, OK 74010
Website: www.NuyakaCreek.com
blog: http://oklahomawine.blogspot.com



Oak Hills Winery and Vineyards
7070 S 4240 Rd
Chelsea, OK 74016
Website: http://www.oakhillswinery.com


Panther Hills Winery
P.O. Box 133
Bessie, OK 73622-0133
Website: http://www.pantherhills.com


Prairie Rattler Winery
67 county road 4681
Shidler, OK 74652
Website: www.prairierattlerwinery.com

OklahomaWines.org - The official site for Oklahoma Grape Growers and Wine Makers Association.

Put A Cork In It Winery
115 East California, Ste 103
In the Heart of Bricktown
Oklahoma City, OK 73104
Website: www.ucorkit.com


Redbud Ridge Vineyard & Winery
7301 East State Highway 9
Norman, OK
Website: www.redbudridgewinery.com/


Redstone Vineyards and Winery
Luther, OK
Website: www.thevenueatredstone.com


Sand Hill Vineyards
12767 N. Courtney Rd.
Calumet, OK 73014
Website: www.sandhillvineyards.samsbiz.com


Sparks Vineyard
Sparks, OK
http://www.sparksvineyard.com/


StableRidge Vineyards
2016 Rt.66 West
Stroud, OK
Website: www.StableRidgeVineyards.com


Strebel Creek Vineyard
11521 N. MacArthur
Oklahoma City, OK 73162
Website: http://www.StrebelCreek.com


Summerside Vineyards Winery & Inn
441251 E. Historic Route 66
(I-44 Vinita exit 289)
Vinita, Ok 74301
Website: www.summersidevineyards.com


Territory Cellars
1521 N Hwy 99
Stroud, OK 74079
(1/2 mile N of the Turner Turnpike on SH 99)
Website: www.TerritoryCellars.com


Tidal School Vineyards, Inc.
54560 West Highway 16
Drumright, OK 74030
Website: www.tidalschool.com


Whirlwind Winery LLC
PO Box 22
Fay, OK 73646
Website: www.whirlwindwinery.com


Whispering Meadows Vineyard and Winery
34 East Choctaw Ave.
McAlester, Oklahoma 74501
Website: www.whisperingmeadowswine.com


Whispering Vines Vineyards and Winery
7374 West 51st Street
Tulsa, OK 74107
Website: www.whisperingvines.net


Windmill Winery
Rt. 1 Box 20
Roosevelt, OK 73564
Website: http://www.windmillwinery.com


Woods & Waters Winery
RR3 Box 160C
Anadarko, OK 73005
Website: www.woodsandwaterswinery.com
Local Wine News
Growing Grapes and Winery Escapes
A Blog of My Adventures
Oklahoma Wine News
Keeping You Informed of Upcoming Events and Wine News
FreeTheGrapes.org
Free the Grapes! is a national, grassroots coalition of consumers and wineries who seek to remove restrictions that still prohibit consumers from purchasing wines directly from out-of-state wineries.
Oklahoma Grape Growers and Wine Makers Association

Wine accessories
VinoGlo Wine Lamps
Make a memory last forever
Fine Wines Direct
Wide selection of fine wines, Port and wine accessories.
Oklahoma Travel Resources
Oklahoma Road Trips
Oklahoma canoe, kayak, and float trips
Other Good Stuff
Dog Training Resources
Train your Dog to be a better citizen and learn to become a better owner
To Link or Not to Link?
We are constantly adding new sites and categories to our list, please email me if you would like to be listed.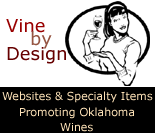 When I'm not working on Oklahoma travel websites I enjoy kayaking the rivers and lakes in and around Oklahoma. The picture below is me paddling on the North Canadian River, taken by my husband Tom. You can read about the fun we have paddling around Oklahoma at