Promoting Oklahoma Wines & Specialty Items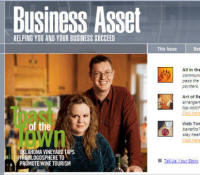 We love Oklahoma and are thankful for the opportunities provided to us by the family wineries and vineyards that make up the Oklahoma wine industry.
Vine by Design creates winery websites, newsletters & specialty items to promote the finest Oklahoma wines and wineries.
We believe that wineries are knowledge-rich businesses that benefit from the unique promotional benefits that only a well-optimized, constantly-updated website can provide.
Oklahoma Winery Websites
Our client list includes Oklahoma's finest winemakers. It has been exciting to witness Oklahoma's rapidly growing wine industry blossom.
From grape growers to wine makers... Oklahoma has much to offer.
We work with vineyards and wineries to network with customers/buyers, promote new products, and generate a larger customer base. Our customers are small businesses, not massive corporations. We know you are used to fast, no-nonsense, problem solving and innovation. That is what we are committed to providing. We help you create email newsletters to keep your customers informed of coming events and new products. We walk you through the process of building a content rich site that will grow with your business. ,We promote all client sites to reach maximum exposure and advertise your winery events worldwide using the latest tools like social networking sites and RSS news feeds.
Website Building and Hosting Prices
---